Individual labeling for optimal storage and production processes
PROFESSIONAL LABELING
Our Krog marking bags are versatile and are ideal for visualizing various storage and transport containers such as wooden stacking frames, wire mesh boxes, crates, cartons as well as pallets, shelves and storage spaces. With an impeccable overview in your operation, you can effectively increase efficiency in the warehouse, in production and in logistics. Professional labeling contributes to optimal warehouse and production processes. It not only ensures orderly and well-organized work, but also preserves / supports compliance with legal regulations.
QUESTIONS ABOUT THE CHOICE OF MARKING
As you will find a wide range of logistic markings in our company, the following questions will help you to choose:
What is to be marked - a shelf, a storage location or, for example, a mesh container?
Should the marking remain permanently in one place or will it be reused in another?
How large should the label be? Should it be readable from a distance?
DIFFERENT FASTENINGS
Whether you want to create order in the warehouse or in the office, you will always find the right solution with us. Valdemar Krog offers you versatile markers. You can choose between various fastening options and designs. We therefore divide our marking category into:
Container marking,
Notice boards with information boards,
magnetic pockets with magnetic strips and neodymium magnets,
Shelf marking with various label holders,
shelf markings with floor markings and
Shelf and aisle signs.
Our high-quality products are designed to be durable even in demanding warehouse operations.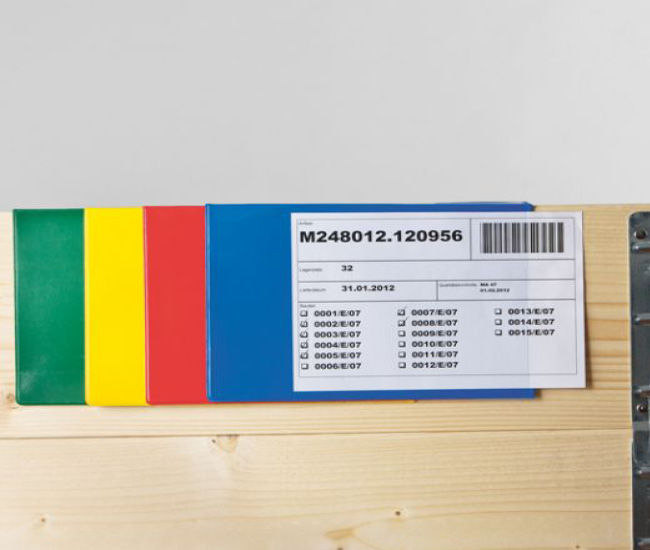 COLOURS AND FORMATS
We offer our logistic markings mainly in standardized formats (from DIN A7 to DIN A3). Our marking labels as well as the shelf and aisle signs are printed as standard with black color on yellow background (numbers, letters etc.). You can choose between one-sided or double-sided printing. All marking pockets can be ordered from us in different colors - standardized in red, yellow, blue and green.
Our warehouse labels are made of stable and durable materials, e.g. hard plastic. A non-reflective film ensures that the information can be read from a distance. A smooth surface prevents dirt from adhering. This makes our markers suitable for places where heavy soiling can occur, such as workshops and warehouses.
An optional rain protection flap provides full protection for the inserted papers. If transport takes place within the company or to the customer, the signage can become illegible due to dust and moisture or also due to weather conditions caused by rain or snow. In this case, we recommend equipping with an additional flap.
INDIVIDUAL PRINTING
If you need special sizes or special colors for your internal logistics, please contact us. We print the shelf and aisle signs according to your templates on request. Certain additions (e.g. arrows) are then also possible. We also print our floor markings with numbers, digits or barcodes on request. This way you get clear parking spaces in your warehouse.
You would like to receive samples of our standard products for your company? You can order these easily and conveniently via the sample button on the article page. You need markings in a certain shape, color or size? Get in touch with us. Call us or send us an e-mail. We are looking forward to your request.