For labelling pallet collars, mesh boxes, pallets, cartons, crates, KLTs and other
Label containers professionally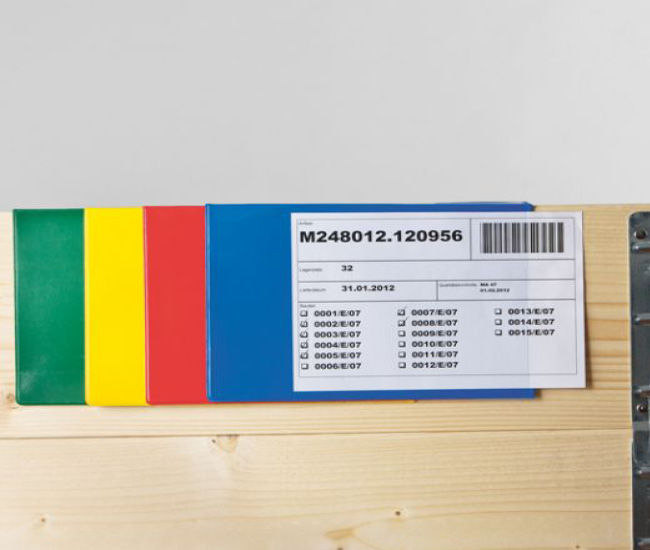 PROFESSIONAL CONTAINER LABELING
With our Krog labeling pockets you can clearly visualize all common containers. This ensures an efficient process in your company. Due to our large assortment of different fastening variants, you can excellently mark storage and transport containers such as pallet collars, skeleton containers, cartons, boxes, KLTs, pallets as well as components and workpieces. In order to offer the best possible solution for the most diverse applications, we carry a wide range of products.
THE MOUNTING OPTIONS
Our marking folders with a pressed fold for overhanging can be hung over the edge of pallet collars, pallet collars dividers, KLTs and other open containers. For mesh boxes and mesh top frames, we produce document pockets with a clamp, hooks, tabs or a magnetic closure. Another universal folder is our wire hanger folder, which flexibly adapts to containers. We also offer self-adhesive pockets, document pockets with a hanging hole and other various solutions in the field of logistic labeling. At a quick look, you can take out all the important information without having to take the documents out of the pocket. In addition, you get a uniform and clear appearance.
DIVERSE APPLICATIONS
KROG's container labeling always provides you with excellent service - whether in the warehouse or when transporting goods. Product information stays firmly in place. Stock slips or goods accompanying slips do not get lost or mixed up. We have a wide range of products for professional and secure labeling of boxes, containers, crates and other common containers. This ensures ideal order and overview in the warehouse, office and workshop.
HIGH QUALITY PROCESSING
We offer our label pockets in the standard formats DIN A6, DIN A5 as well as DIN A4 portrait and landscape. Documents can be inserted either from the side or from the top. An optional rain protection flap offers extensive protection against dust, moisture and also creases. The coloured pockets are made of ortho-phthalate-free PVC film. This material is also used for processing medical equipment, for children's toys or even in the food industry as packaging. In addition, we offer many of our products made of an extremely resistant hard plastic. This material is characterized by a very long service life. All our KROG products meet the highest standards of quality and durability.
SERVICE AND ACCESSORIES
The right accessories for your container labeling, like labeling cards, clip-on clamps, or plastic pegs for fastening labeling pockets, are of course also available from us in the appropriate forms. You will find it on the respective product page.
You can order a sample of our standard products easily and comfortably by clicking on the sample button on the product page. Or do you need a special design for your internal container marking? Contact us - call us, write us an e-mail or send us the completed contact form. We are looking forward to your inquiry.