Magnetic pockets with one or more strongly adhering magnetic strips or extra strongly adhering neodym magnetic pockets
Optimal storage structure thanks to magnetic pockets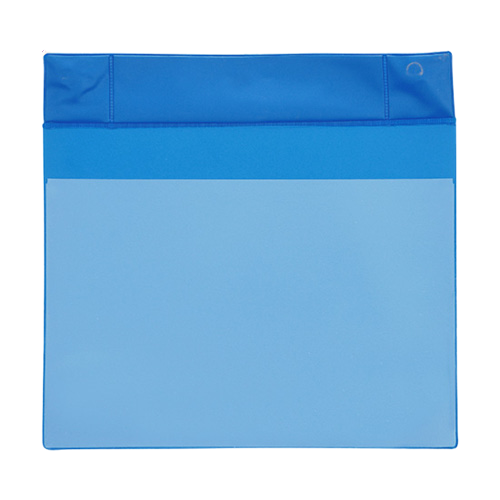 PROFESSIONAL MARKING THANKS TO MAGNETIC POCKETS
Magnetic pockets are ideal for marking metal storage and transport containers, components, workpieces, containers and other objects that are to be marked in the areas of production, storage, manufacturing or assembly. The transparent front allows a clear view.
The pockets can be used, for example, to mark components in production or goods stored in wire mesh boxes. Shelf and storage locations can also be marked with the help of the marking pockets. Due to the different colors available, the magnetic pockets can be optimally used to divide different areas or for visualization (green/red). Barcodes can easily be scanned through the transparent front foil.
Your storage containers are located outdoors? Then an optional rain protection flap protects inserted documents from dust and moisture. The protective flap covers the opening and reliably keeps water out. At the same time, it does not obstruct the insertion of additional documents through the opening, so that they can still be exchanged quickly.
FUNCTIONALITY AND QUALITY
Due to extra strong magnetic strips (optionally 1 or 2 strips) the magnetic pockets offer a firm hold on ferrous surfaces. The pockets are available in different formats and colours (e.g. blue, red, yellow or green, DIN A4 - DIN A7, for portrait or landscape format). For our magnetic bags there is no information obligation according to the REACH regulation, because the films are free of ortho-phthalates. For this reason, they can also be used without hesitation for food packaging and children's toys, for example. Thus, our magnetic pockets are not only characterized by functionality and processing quality, but are also the right choice under ecological and health aspects.
EXTRA STRONG NEODYM MAGNETS
Alternatively, we offer magnetic pockets with welded neodym magnets (optionally with 2 or 4 magnets). These neodym magnet pockets are characterized by an even higher adhesive force (each magnet has an adhesive force of 3 kg). These marking pockets can be used especially where a particularly high adhesive force is required: for example, for transport trolleys or lattice boxes that are being transported. We also offer the neodym magnetic pockets in different formats (DIN A6, DIN A5 and DIN A4) and different colours.
THE SPECIAL SOLUTIONS
Do you need our magnetic pockets in special sizes or in a different colour, for example? Or you need more neodym magnets for even better holding power? On request, we can also produce a special solution for your individual application. If you would like to test the use of an item before buying it, we can also send you a sample.
If you have any questions about a product or your order, please feel free to contact us at any time.